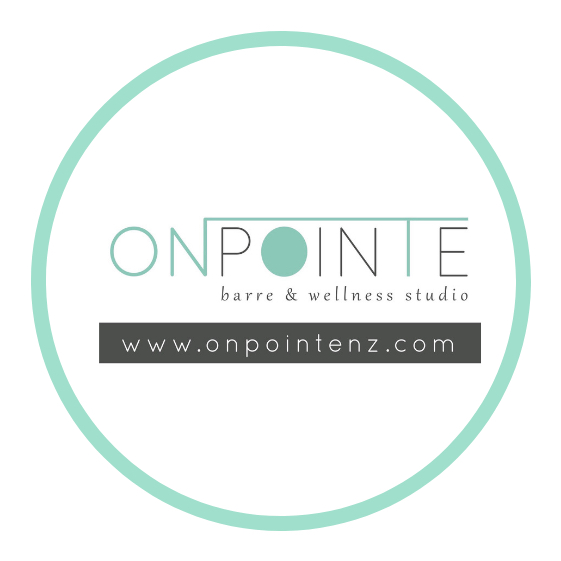 Christchurch
Bootybarre, Clinical Pilates, Pilates
---
Pricing:

Please Enquire

Suitability:

All levels
---
About On Pointe Studio
Wondering what bootybarre© is? Now is the time to find out at On Pointe Studio in Christchurch
Bored with pumping weights at the gym? bootybarre© (pronounced boo-tee-bar), or barre for short, at On Pointe Studio in Christchurch could be the answer.
So what is bootybarre©? bootybarre© combines Pilates, ballet and yoga, and uses the ballet barre for an all-over body workout done to music. Not just an exercise craze, barre is a fun and effective way to get fit, improve your posture, and achieve a calmer mind and greater overall well-being.
On Pointe Studio is the leader in barre exercise classes
On Pointe Studio co-owner Lyndal Woodham was the first to bring bootybarre© to Christchurch in 2013, just after the birth of her fourth child. In 2015, Lyndal became a New Zealand bootybarre©Master Trainer.
All our teachers are fully trained and certified bootybarre© instructors. Our team is highly skilled and passionate about making your bootybarre© experience productive and enjoyable. It is our aim to provide a safe and supportive environment for your bootybarre© workout.
To keep you inspired and prevent your fitness from plateauing, the bootybarre© workouts are regularly updated with new and challenging exercises.
Find a barre exercise class that suits you at On Pointe Studio
Our extensive range of bootybarre© exercise classes means you'll find one that suits you, your exercise requirements and your timetable. On Pointe Studio offers classes throughout the day, which makes them a great way to break up your work schedule with a lunchtime or afternoon workout.

bootybarre® PLUS
A high-energy class that combines Pilates, dance and yoga with cardio at the barre. Easy to follow, this class is known to burn calories!
bootybarre® Flex & Flow
Incorporating movements inspired by reformer Pilates, this class uses an exercise band to achieve strength training and total body sculpting. Unlike bootybarre® PLUS, there is no cardio component.
bootybarre® SCULPT
Described as a  "dynamic total body workout", SCULPT uses the bootybarre® cuff – a strap that helps you achieve fluid movements and allows you to easily improve your strength and flexibility. 
Bbarreless®
Using classic barre exercises adapted for a total body workout, Bbarreless® focuses on the core for improved balance. It is broken down into four parts, including a short warm-up and two cardio intervals using either a band or ball.
Bbliss
Ideal for newbies and people with osteoporosis, arthritis, joint inflexibility and balance issues as well as new mothers, Bbliss is a slower paced class, incorporating stretches with deep breathing. This class uses the barre, light dumbbells, exercise bands and a small ball. As with all our classes, equipment is supplied by On Pointe Studio.
Lyndal Woodham (co-owner)
I am always proud to say I was the first New Zealander to bring bootybarre here – back in 2013. Barre was only just starting to get noticed and it felt like the perfect time to do something for me (after just having my fourth child) so certification of bootybarre happened and i've been teaching ever since.
In 2015 I had the honour of becoming the NZ Master Trainer for bootybarre which will enable me to grow the brand here. I am also Basi Pilates trained, including mat and comprehensive equipment. Having our own studio means we can finally offer class times we want to a wider base. I look forward to seeing you in the studio soon.
Katrina Buchanan (co-owner)
I started attending Lyndal's bootybarre classes a few years ago and was instantly hooked, completing my instructor training early in 2016. Having danced years ago it reignited my passion and combined my love of fitness in a whole new method. I recently completed my Basi Pilates comprehensive training. As a Holistic Clinical Nutritionist the chance to create a space that offers clients access to a total health package is a dream come true.
I look forward to seeing you in our new space and guiding you on your health journey, whatever it may be.
Catherine Flemmer
Recently relocated to New Zealand from South Africa, Catherine completed her Cecchetti Ballet Teaching Diploma ten years ago. Her passion for movement and the human body inspired her on a Pilates journey, seeing her complete a BASI Comprehensive Teacher course, including Mat and professional equipment Pilates. Catherine recently completed her bootybarre training and is a great asset to On Pointe Studio.
Lisa Lay
I found bootybarre about a year and a half ago and was instantly hooked! When the opportunity to attend the instructor training came up I knew I had to do it. After having my baby girl in October 2017, it's so exciting to be back in the studio kickstarting my career as a fitness instructor and personal trainer. I'm absolutely chuffed to be part of the On Pointe team and looking forward to seeing you at the barre soon!